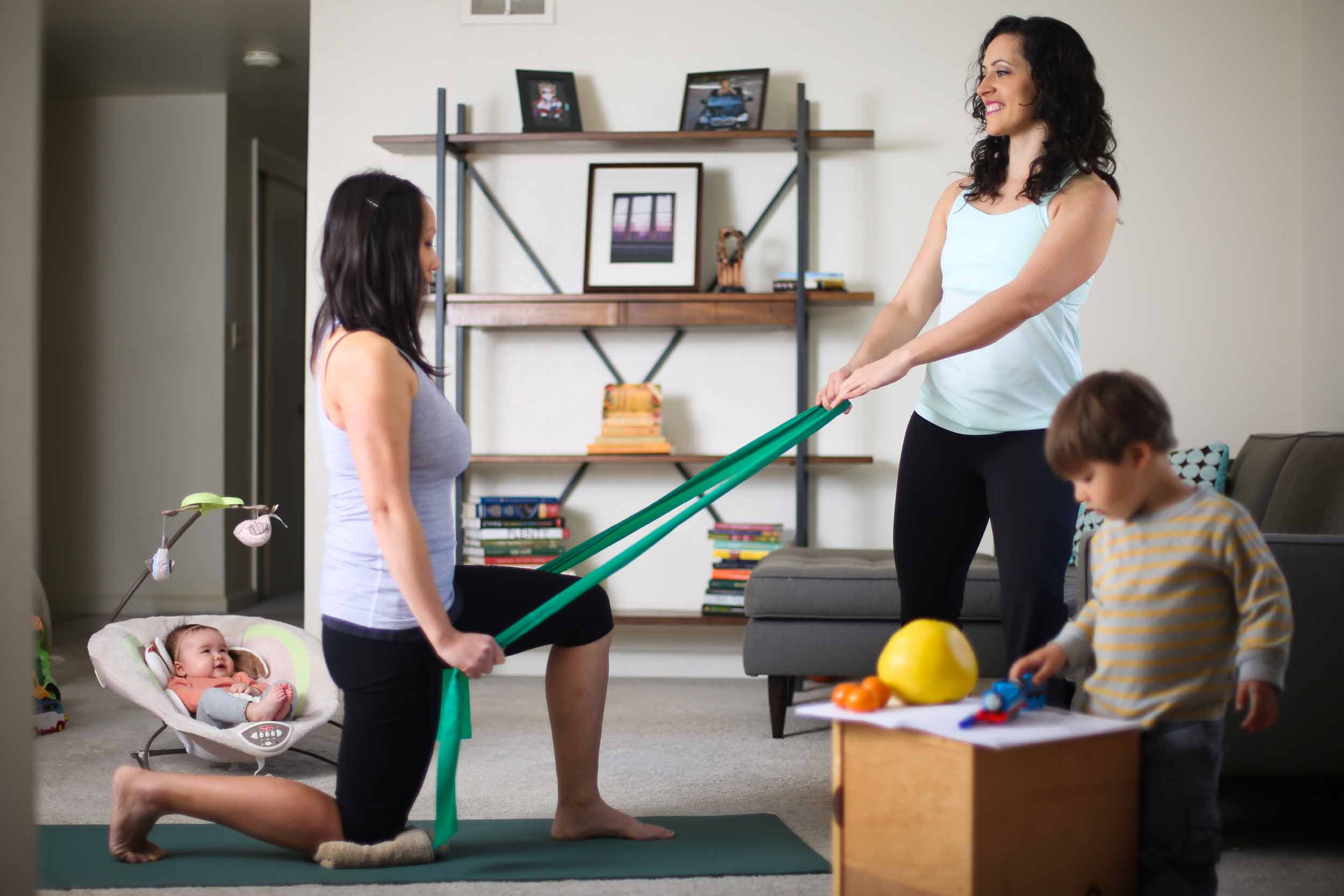 No matter what kind of woman you are – a new mom, a busy professional, an athlete, a mature woman, a pregnant woman, whatever – you may want Pilates to:
Reduce back, knee, hip and other pain that is often associated with pregnancy and motherhood
Improve muscle tone to keep every part of you limber and strong
Increase flexibility for a long, lean physique
Accelerate weight loss and stay fit even with a busy "new mom" schedule
Create flat abs by healing and restoring stomach muscles, for that pre-baby belly
Improve body posture, to keep back pain at bay
Strengthen core muscles which are essential for picking up your baby dozens of times every day
Reduce stress and feel great with a Pilates workout
That's why we started Hot Mama Pilates, to provide a very safe and effective way to help women feel better in their bodies.  Here's how we can help:
Because your time is short, we do in-home sessions at a time that best fits your schedule. We turn afternoon nap-time into Hot Mama Pilates time.
Women have specific trouble areas and need a workout specifically designed for them. Hot Mama Pilates provides an efficient and effective way to feel better in your body.
Because you don't need exercise homework that involves new equipment, too much time or too much effort, we give you simple exercises to practice during your everyday life. We make it easy to practice Hot Mama Pilates everyday.
I will try, but my words may not be able to express my gratitude for all that Cara has helped me do.  After an accident at work, I have struggled with pain and problems with my posture.
Cara's attention to detail and her focused approach have been instrumental in my recovery. She has set herself apart from any trainer or phyiscal therapist that I have seen in the past.  Her fun personality and positive attitude make the hardest days a little easier. With chronic pain, a little sunshine is always a welcomed treat!
Cara, thank you for all that you do!!!
Cara is a superstar! She has been an amazing asset to my clientele. As a pediatric Chiropractor, I have lots and lots of new and expecting moms in my office at all times. The one thing that they all have in common after delivery is a body that is sore and beat up after delivery (not to mention 9 months carrying a baby) and the rigors of new motherhood leaves them little to no time for self care or leaving their house. Cara has been a God send to these new moms because she puts on her Super Woman cape and comes to them for in-home Pilates sessions! They are all raving about how amazing Cara is and most of all how fantastic they feel! Thanks for everything that you do Cara!
Still have questions or want to book a Hot Mama session?  Get in touch with us!  We look forward to hearing from you and aim to reply within two business days. Call us at: (650) 746-4774 Or, send us an email by filling out this form: