Pilates for Pregnant Women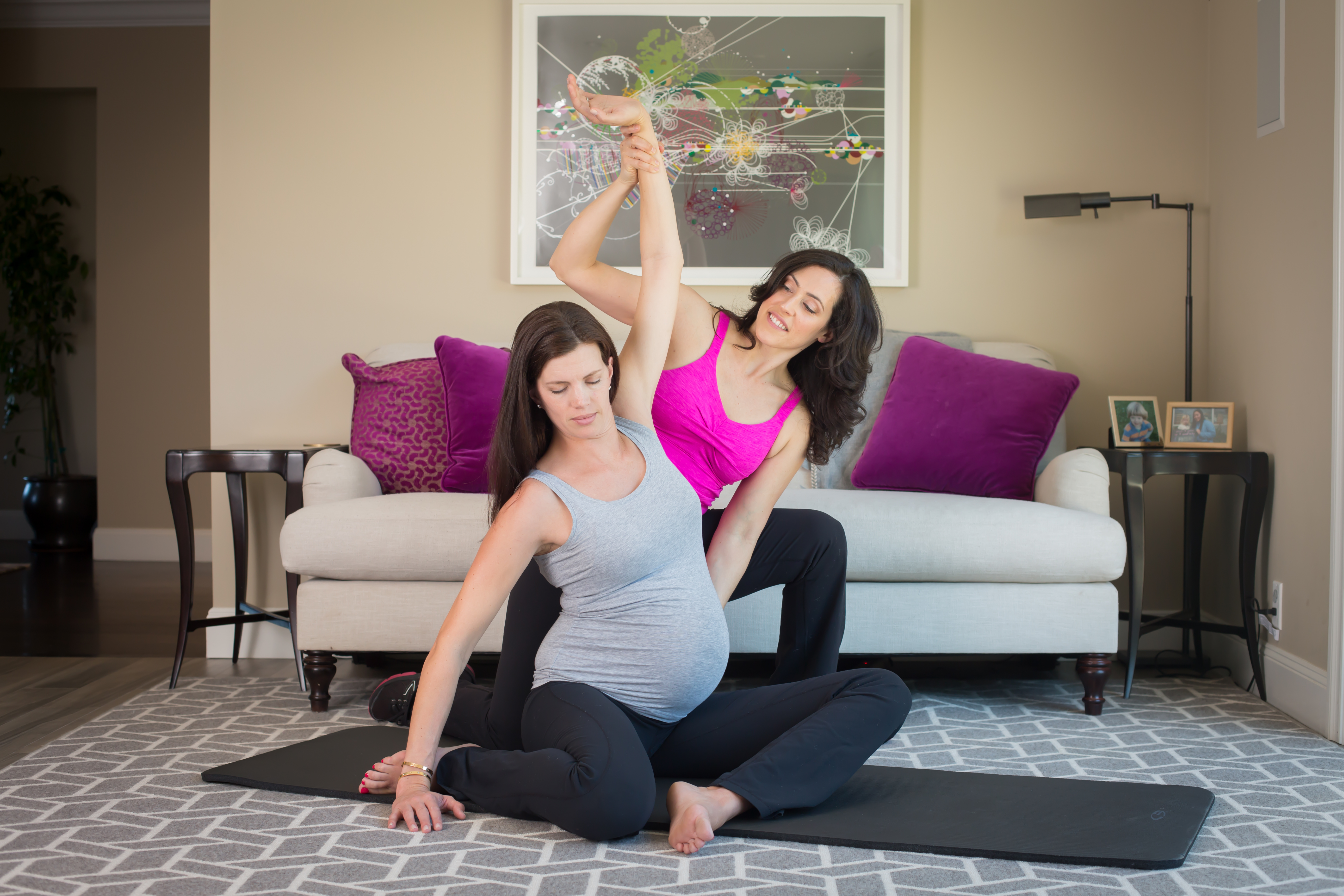 Pregnancy can be stressful on a woman's body – lower back pain, achy shoulders, sore hips and so much more.  Pilates for pregnant women can help relieve some of these stresses.  It stretches what's tight, strengthens what's weak and provides optimal body functioning to prevent body injury.  
Probably the three greatest benefits that pregnant women find in Hot Mama Pilates are:
It is an effective workout that is safe for the baby   

It helps pregnant women connect with their core and pelvic floor muscles for a body that bounces back faster after the baby is born

Helps women feel more comfortable in their bodies throughout the pregnancy process
Cara is a superstar! She has been an amazing asset to my clientele. As a pediatric Chiropractor, I have lots and lots of new and expecting moms in my office at all times. The one thing that they all have in common after delivery is a body that is sore and beat up after delivery (not to mention 9 months carrying a baby) and the rigors of new motherhood leaves them little to no time for self care or leaving their house. Cara has been a God send to these new moms because she puts on her Super Woman cape and comes to them for in-home Pilates sessions! They are all raving about how amazing Cara is and most of all how fantastic they feel! Thanks for everything that you do Cara!
I have chronic back issues on top of which I am very pregnant –My backpain is no joke. Within just a few minutes of starting our sessions Cara is able to help me loosen my back. I've really never had this response to any massage, physical therapy or chiro services. It's so great to know she is helping me not only relieve pain but elongate & strengthen my muscles to prevent future pain as well. I highly recommend her!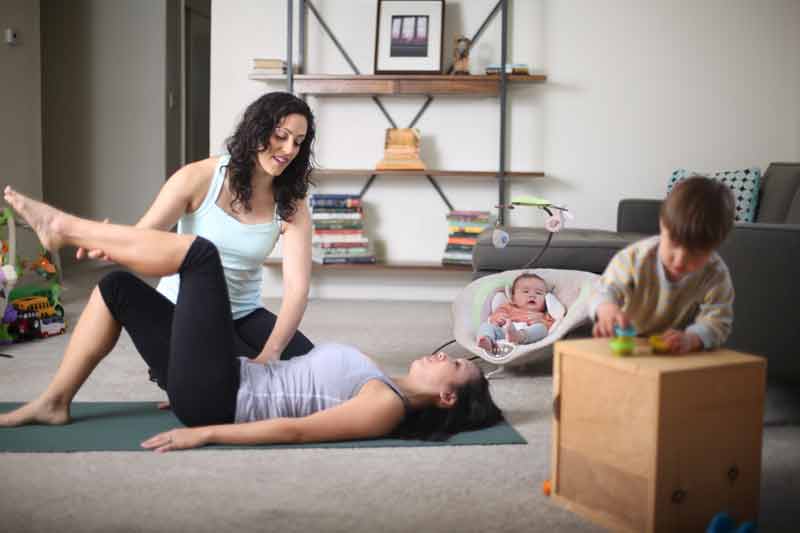 Being a new mom means you are busy. Your new routine and new responsibilities can make getting and staying fit difficult. You need a new mom workout that if safe, effective and convenient. The three top reasons why new moms love Hot Mama Pilates:
The return of the flat tummy

Connecting with and strengthening core and pelvic floor muscles to quickly bounce back into shape

In-home sessions that

make getting fit and staying fit easier for busy, new moms
Loved my privates with Cara and encourage anyone, especially post-baby mamas, to check her out!.
I began seeing Cara after the birth of my son. I had been so busy and didn't prioritize getting back into shape. By the end of the initial session I could feel my core beginning to wake up for the first time in a year and a half. I was so grateful!.
The thing about Cara, besides being a cool person to be with for an hour, is she brings a lot of knowledge to the table. She began by doing a thorough assessment, so our sessions were clearly customized for what my body needed to be stronger and more balanced.
Since working with her my self awareness has increased, I'm back on track, and I'm feeling really good in my body again. Cara is a great pilates instructor, I highly recommend her.
Pilates for Menopausal Women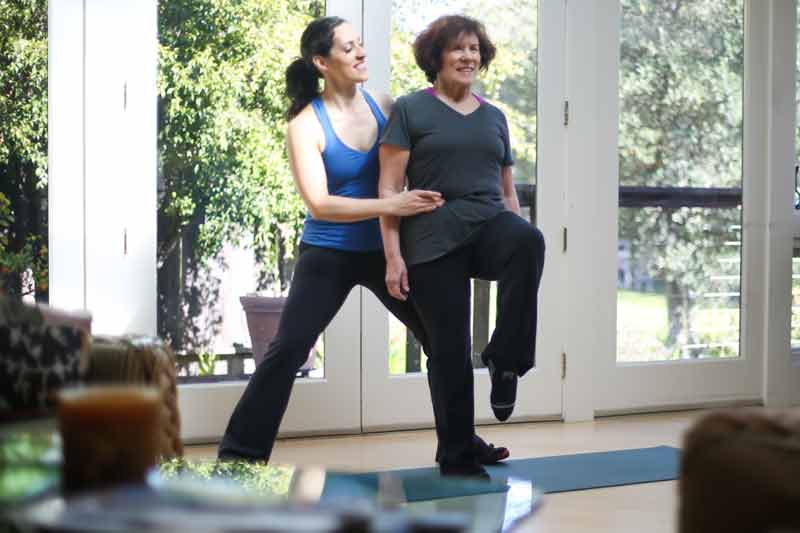 Pilates can be one of the best ways to counteract the side-effects of menopause. Hot Mama Pilates helps to keep your body strong, toned and flexible with little risk of injury.  The benefits of Hot Mama Pilates for menopausal women are:
Sleep better

Relieve incontinence

Reduce pelvic floor issues

Stay toned and fit

Safe & low impact training to avoid injuries

Reduce mood swings and stress

Tones and strengthens abdominal muscles

Helps alleviate pain in lower back, shoulders, hips and knees
Cara, my lovely instructor, has revolutionized the way I walk, sit, and workout. She has showed me how to strengthen my core and how to breath, and for the first time in 5 years, I have no back pain.
Cara is extremely kind and personable, and on top of that she really knows what's she's doing! She's really good about changing up the routines to focus on how your body is feeling that day, as well as making sure you're comfortable. She gives very clear instructions on what each exercise does and where you should be feeling the "burn", rattling off muscle names with ease. I also appreciate that she gives constant encouragement and helpful corrections. 
Pilates for Busy Professionals (Men & Women)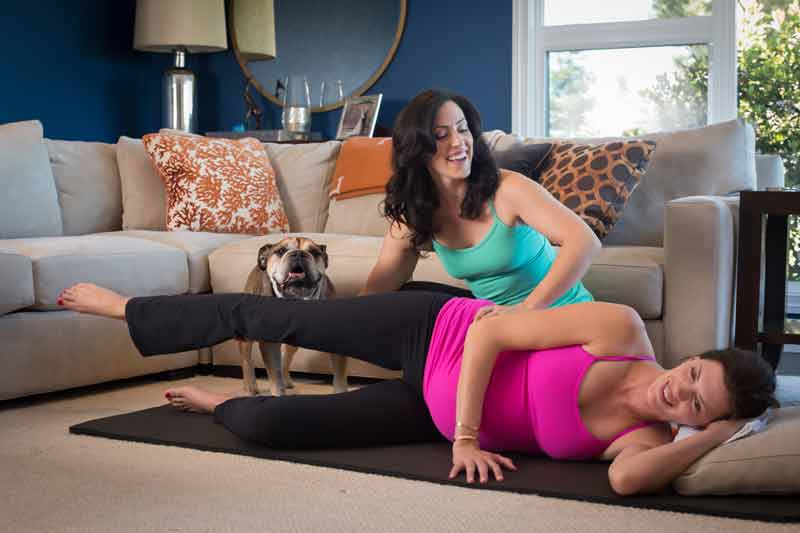 Many of our clients are men and women that are busy professionals – they love the results of Pilates, they love the in-home or in-office sessions, they love the tailored training sessions specifically designed for what their body needs. We help you strengthen your core, improve your posture, relieve your aches and pains, tone, flex and strengthen.  We commonly work with:
People who are really busy with work or life and don't have time for exercise

People with back pain or discomfort

People with body and muscular imbalances such as

Scoliosis, Spinal Stenosis and herniated discs

People who want safe training to get into shape without injury
Cara is absolutely amazing! I have been working with her for over a year to address issues that come from too much time in front of a desk, in a car and on a plane and the progress I have made has been remarkable.
After being at a desk job for the last three years, I began working with Cara to improve my flexibility and strength.  In the last year I've noticed a vast improvement in my overall well-being.  Cara has helped me become more limber and toned.
If you want an instructor that listens, responds and coaches you to your best, look no further. Cara is for you.
Still have questions or want to book a Hot Mama session?  Get in touch with us!  We look forward to hearing from you and aim to reply within two business days. Call us at: (650) 746-4774 Or, send us an email by filling out this form: